Rome day trip - olive oil tour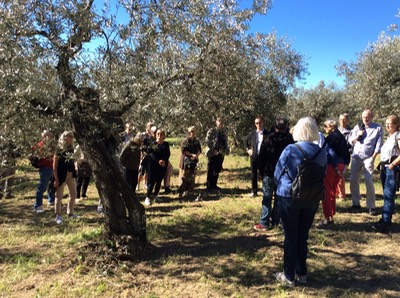 This tour begins in one of the many olive groves just outside the historic walls on Toffia. Our magnificent hilltop village and the nearby ancient monastery of Farfa will be in view, while you learn about the ancient art of olive oil making, from harvesting to milling and bottling. You will also discover the numerous uses for olive oil from pre-Roman times to today. Learn about the many different types of olive trees, and the numerous variety of olives and olive oils that can be found in the region of Sabina. You will see that the final product is in fact a carefully balanced blend of different flavours, to achieve smoothness and extremely low acidity.
Once we reach the end of the tour, where there are commanding views of numerous local olive oil estates and surrounding countryside, we will end with an olive oil tasting session. The extra virgin oil produced on the local estates will be offered by our olive oil expert with local freshly baked bread 'pane e olio'. You'll be able to taste the difference between the olive oil you normally buy at home and the Sabina novello olive oil (just harvested).
This is a unique experience, a chance to learn about olive oil making, walk in the unspoilt Roman countryside and admire a number of well established olive trees that are certainly a few hundred years old.
Half Day Rome Olive Oil Tour
This 3 hour tour includes a visit to the largest olive tree in Europe (2000 years old) and a visit to an local organic olive farm.
This tour is all about olive oil, its flavour and the art of olive oil making. During your olive oil tour we will drive you through beautiful rolling hills covered with olive groves, fruit orchards and vineyard, on our way to visit a family run olive grove, where extra virgin olive oil is still produced traditionally in the beautiful natural surroundings of the Sabina region, just north of Rome.
What makes good olive oil so special?
During your olive oil tour, you will learn to recognize good olive oil by its freshness and flavour, discover the ancient art of olive oil making and find out what makes good olive oil so special. You will also sample the olive oil on freshly baked wood-fired bread with a glass of wine and a sample of local prosciutto and pecorino cheeses, while admiring the stunning views from the Sabine hills from our family home terrace.
The largest olive tree in Europe
Part of the olive oil tour is a visit to the largest olive tree in Europe, which is over 2000 years old and is a natural monument of Italy. This enormous olive tree still produces plenty of olives and is set in the heart of olive oil country and the rolling hills of Sabina near Rome.
Easy journey from Rome: trains every 15 minutes!
From wherever you are staying in Rome, joining our olive oil tour is easy, direct and simple and it only takes about 40 minutes. There is an excellent urban train service which departs from many areas of Rome every 15 minutes. We give you easy-to-follow directions to come to our local train station; you will find us there waiting for you holding our sign, then we will set off for our olive oil tour. At the end of your Rome olive oil tour, we will return you to the station. (more details can be found on our 'programmes page').
Thanks to Sally and Guido for a fabulous day out from Rome, I learnt so much and got to see some amazing countryside (that reminded me of Tuscany and Umbria) in a region I knew nothing about. Guido certainly knows all there is to know about Olive Oil. He was a great guide and made the whole experience fun and relaxing. I learnt so much about Italian extra virgin olive oil, that my friends now call me 'an olive oil snob', and I love it! 

Elisabeth C. Ontario, Canada.
For larger groups: We can also accomodate private larger groups. Please inquire. Our Rome Olive Oil Tour is usually conducted in the morning, however afternoon tour times can also be arranged for larger groups.
All our activities can be combined with accommodation at our B&B