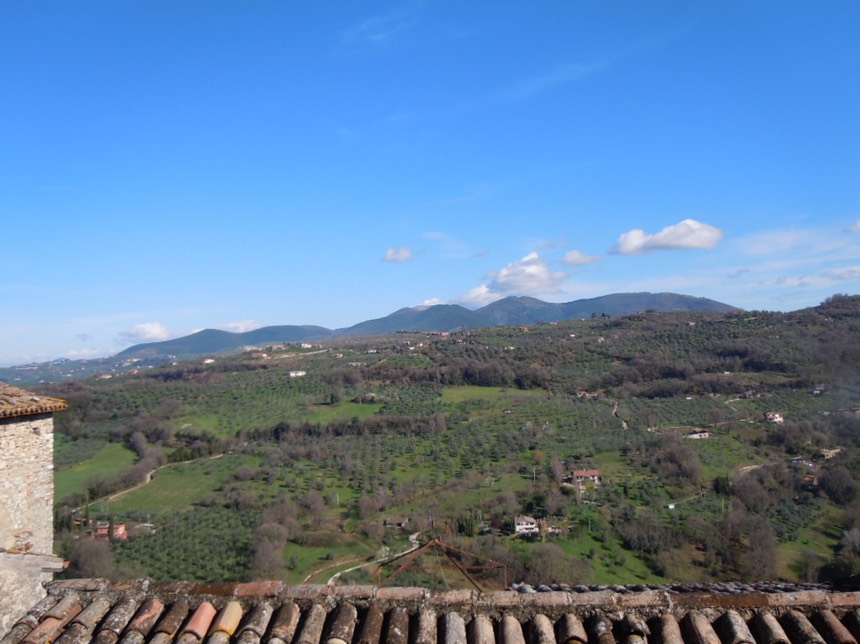 To make your Italian cooking holiday a truly unique and relaxing experience we have selected restored historic homes in the medieval hilltop village of Toffia. You will be staying in one of the historic homes or apartments within or nearby these medieval walls. Toffia lies in the Sabina region, between Rome and Umbria. These homes are self-contained, clean and very comfortable. They have an interesting history and have been meticulously restored and tastefully furnished by their owners. Our cookery holidays and vacations are also a fantastic way to experience authentic rural life in Central Italy, staying in complete comfort and living 'like the locals do' in a medieval hilltop village.
'Live like the locals'
The terrace homes we have selected exclusively for our Italian cookery holidays and vacations are all within or nearby the ancient stone walls of Toffia. This picturesque and unspoilt hilltop medieval village built in the 10th century on a cliff, dominates the stunning countryside of Sabina. All our accommodation is of a high quality and located within or nearby the medieval village of Toffia, where our Italian cooking school is based. Your Italian cooking classes are held in our  home near Toffia. Our homes have comfortable living areas, ample double bedrooms and newly renovated bathrooms and kitchens. Some have private gardens and all have wonderful views over green hills and valleys and picturesque piazzas just outside the door, so you are welcome to pull out a chair, sit in the sun, sip on a glass of local wine and watch the world go by!
Casa Convivio Rome: a real family home
This  500 year old family home has spectacular views over the rolling hills and valleys of Sabina, covered by olive groves and vineyards. The unspoilt views from the top floor stretch for an amazing 50 miles all the way to the mountains. The colorful sunsets over the valley will take your breath away.
This light and bright family home has been lovingly renovated by the owners and made into two double bedrooms with designer bathroom, fully equipped kitchen and comfortable lounge area. Casa Convivio Rome is located in the heart of the historic medieval village, just two steps away to the sunny village garden and is conveniently placed near one the central piazzas. There are panoramic views over olive groves and you can enjoy spectacular sunsets while sipping on a glass of wine. Casa Convivio Rome is perfect accommodation for four to six people. Free wifi is available from this home.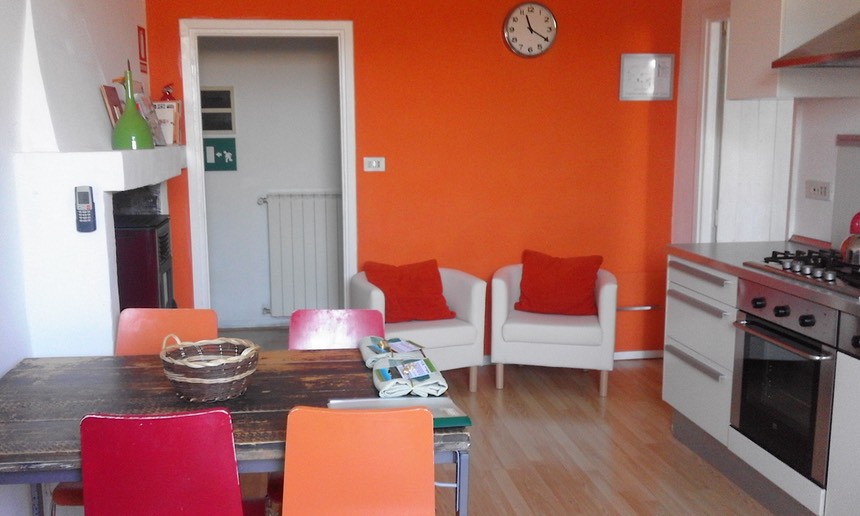 Other accommodation 
Other accommodation is available upon request. Please, ask.
Accommodation for the single traveller
Due to the nature of our accommodation, single guests who know each other will be allocated twin share accommodation. Private single bedrooms can also be arranged.
Swimming pool
An excellent swimming pool is available nearby Toffia and Farfa in the summer months. This pool is unique, as it only uses the purest local spring water. If you wish, we are more than happy to organize a driver for you to go to the pool and return you to Toffia, during your free time.