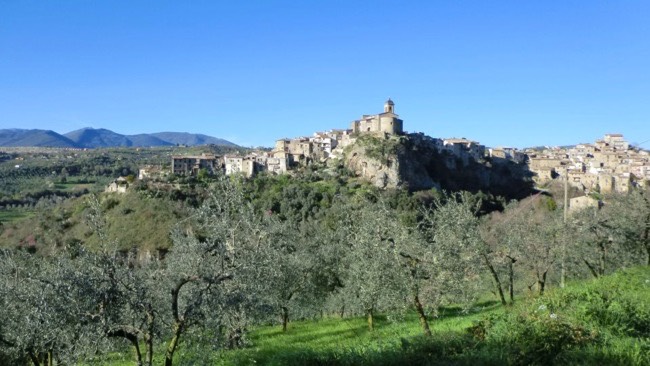 Sabina, the perfect setting for a cooking holiday
Between Rome, Umbria and Tuscany, Sabina is central Italy's best kept secret. More rural and densely green than Tuscany and Umbria, it is also a lot less tourist-plundered. It has olive groves, vineyards, medieval hilltop stone villages and ancient monasteries ; but more than anything, Sabina has true ingredients in its fields and woods which have earned it the label 'paradiso gastronomico'. We are an easy train ride, just 40 minutes, from Rome. This is why Sabina is the ideal location for our Italian cooking holidays.
In spring and summer, the land is patchworked in delicious and coniferous Botticelli greens. Hills are laced with narrow white tracks and roads that loop like spaghetti, reaching villages and hamlets that cluster on the hilltops. Wheat fields are strewn with poppies, and slopes are neatly planted with groves of olive trees. Wild greens are collected in a countryside ritual, with the most tender shoots eaten as salad. In winter and early spring fruit trees are bursting with the sweetest oranges, apples and pears of all different shapes and sizes. June is the month for cherries, beautifully dark red and very sweet. In summer and until autumn, you'll see peaches, apricots and fresh figs everywhere.
However, olive oil remains the key economic food resource due to quality single-estate oils that are so low in acidity they are extra smooth and rich. Every village grocer has its own cured meats and salami counter. Boxwood crates of locally harvested produce, from baby purple artichokes to the speckled pink pods of borlotti beans, are displayed in tiers.
Sabina is truly a magical land of panoramic views across its valleys, olive groves and vineyards, fields of sunflowers and wild Mediterranean herbs, medieval hilltop villages, castles, and majestic Roman ruins set in wild nature.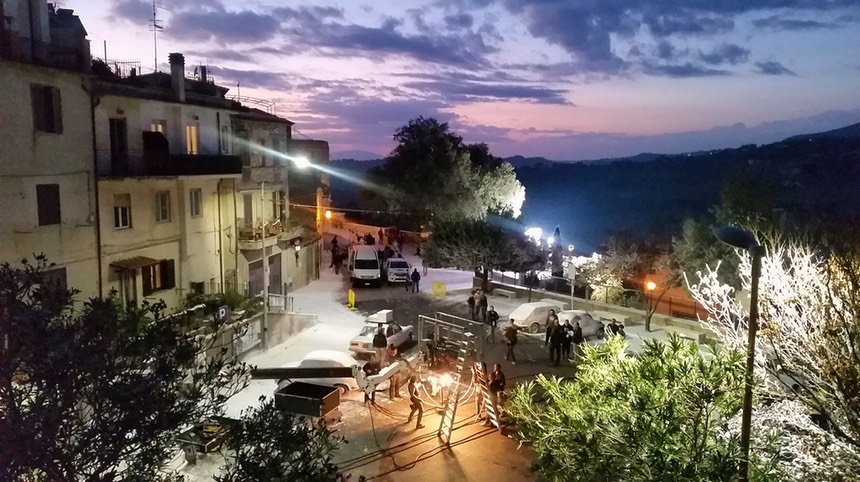 Toffia 
Toffia is where your accommodation is located for your 3 and 5 night Italian cooking holiday. Participants of our Italian cooking holidays (or Italian cookery vacations) become part of a vibrant Italian rural community, while they enjoy cooking, eating, sampling wine and relaxing.
One of the most unspoilt and better kept medieval hilltop villages in Italy, Toffia is just 40kms from Rome and conveniently situated between Rome and Umbria. Toffia is full of  ancient restored palazzos, churches and small piazzas  from which it is possible to admire sweeping views of olive groves and vineyards in the surrounding valleys. As other villages in the region, Toffia's beauty has not been yet discovered by mass tourism and retains all its authenticity.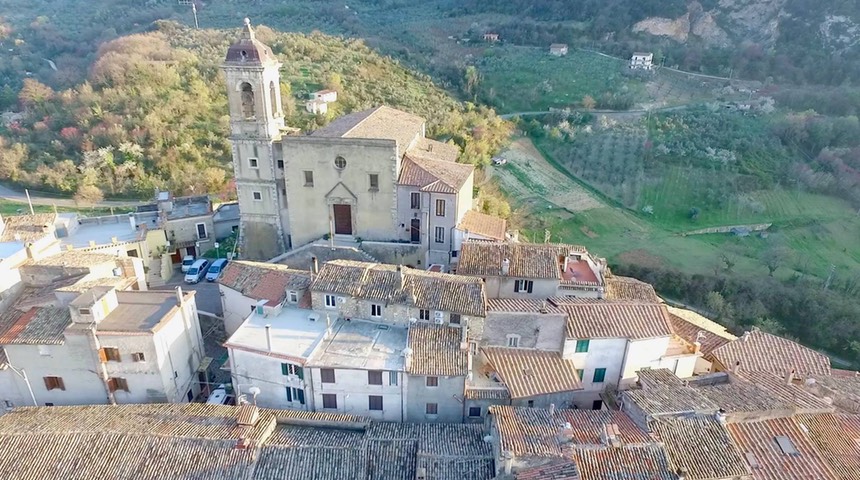 Castelnuovo
Castelnuovo is an enchanting village built in the middle ages to better defend the powerful Farfa monastery nearby. It has an interesting olive oil museum, a historic bakery museum and several fine renaissance palazzi, including Palazzo Galli with its magnificent renaissance gardens. The historic homes have been lovingly restored to reflect the colours of Giotto paintings. We visit Castelnuovo on our way to your Rome cooking class held in the unspoilt countryside.

Step into the romance of untouched medieval villages.
Toffia and the Farfa valley are home to our Italian cookery school. Toffia was built in 930 AD. Its cobbled streets, castle walls, towers and ornate palaces really take you back in history. In medieval times two rival Roman aristocratic families, Orsinis and Colonnas, fought over Toffia for centuries. Then they split the village in two separate areas, each with a castle and guarded gate.  Eventually the Orsinis took over Toffia for good.
The Monastery of Farfa
Nearby Toffia is Farfa Abbey, one of the most important monasteries in European history, more influential and powerful than Cluny in France. Founded in the VII century, Farfa became 'Imperial Monastery' under Charlemagne. Vast territories of central Italy belonged to Farfa, including the cities of Siena, Perugia, Assisi and many others. Still today this monastic complex looks majestic, with a basilica, a tower-library containing thousands of rare manuscripts, artist' workshops and buildings all dating back to the middle ages. Farfa was also featured in the third episode of Jamie Oliver's TV show 'Jamie's great escape'.
The village of Farfa in Sabina has an interesting number of shops, all relevant to our gourmet and cookery holidays and vacations. This includes the monastery's herbalist shop, the 'oleoteca' where local extra virgin olive oils are sold and an award winning hand-made fabric shop. The delicatessen sells cheeses and wines from Sabina. Farfa is one of the hidden treasures that can be visited during your Italian cookery holidays.
Fara Sabina
Another unspoilt medieval hilltop village you can visit during your Convivio Rome Italian cooking holiday, Fara Sabina was an important city in medieval times. Due to its very high position on a hilltop, it has majestic views over the Sabine Hills and even Rome. It has splendid remains of a monastery, handsome renaissance palazzi, ancient alleyways and a weekend market place that's buzzing with activity. As usual in Sabina, there are no huge car parks or souvenir shops here! Moreover, Fara Sabina is famous for its delicious oven-fired sourdough fresh bread and focaccia.