Your Italian cooking holiday in sunny and unspoilt Sabina, just north of Rome.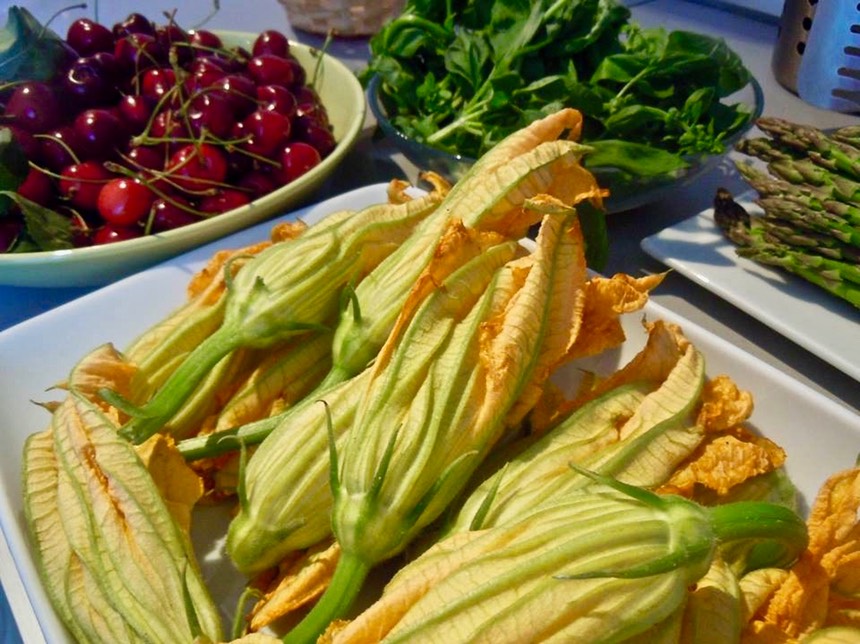 Your accommodation will be in the medieval hilltop village of Toffia, were we have selected two restored historic terraced homes with spectacular views of the surrounding countryside. They have bright double bedrooms. beautiful little piazzas outside their front door and a sunny garden close by to enjoy. Toffia is a picturesque and unspoilt village, one of the best preserved medieval hilltop villages in the Sabina region.
Step into authentic Italy from your first evening.

After a beautiful sunset in Sabina, we'll welcome you over dinner, a feast of wonderful local food and wines. During this relaxed evening, held in a 1500's taverna, Sally will discuss the programme of events for your Italian cooking holiday.
Breakfast is served at the local cafe  where you can enjoy a perfect cappuccino and fresh croissants, while sitting on their patio.
Tripadvisor Certificate of Excellence for 2015, 2016, 2017, 2018 and Tripadvisor Travelers' Choice Award 2020 - 2023 (top 10% of all world attractions).
Over the years, Tripadvisor awarded our Italian Cooking Holidays near Rome with awards to aknowledge our consistently high standard of quality and service to our international guests. 
More than just a cooking holiday.
Our longer Italian cooking holidays also include a guided tour of an olive grove, and wine tasting sessions. Part of our 5-Day Italian cooking holiday programme is an afternoon trip to explore the winding streets of Castelnuovo or take one of the many walks in the unspoilt and beautiful countryside. 
Fun and creative cooking lessons and lunches.

Week mornings will be dedicated to cooking wonderful traditional lunches, using the most popular recipes from Cucina Romana and Toscana, with an eye for contemporary presentation: all very easy to replicate at home. We only use the most flavoursome seasonal fresh ingredients sourced from local farmers. All levels of cooks are welcome in our relaxed cooking lessons, from absolute beginners to advanced. All our cooking lessons are held in our family home and during lunch, there are more opportunities to sample the unique wines from central Italy.
Afternoons at your leisure.

In the afternoons, tours of nearby villages, monasteries and wineries are also included in our cooking holiday programmes. Or if you wish, you can simply relax and enjoy the sunshine, or  explore the winding cobble-stoned streets of Toffia to discover the little shops and cafes where you can stop for a glass of wine or aperitivo. If you are feeling a little more energetic, there are many walks available that wind through the valley and if you are a keen photographer or painter, the village and surrounding natural beauty are guaranteed to inspire you. In the evening, you will enjoy dinner at the local restaurant, all meals are included! You can also participate in one of the local food and cultural festivals when they are on.
An Italian Cooking Holiday for fun!
Our Italian cooking holidays are designed to be just that - a real holiday. So apart from cooking, eating your freshly prepared meals and sampling local wines, there's time to yourself. For example, you can explore the Sabina area and its ancient castles and villages, such as Toffia, Fara Sabina and Farfa, travelling back in time to the middle ages. Or you can just unwind while you have a drink in our sunny gardens overlooking olive groves, waiting for the sunset. Sunsets in Sabina often display incredible shades of red, purple and orange.
Non-cooking companions will have plenty to do while you cook and are welcomed at all our events. For your accommodation, we have carefully selected a small number of restored medieval or renaissance homes and apartments with plenty of character and comfort.
Natural and sustainable Italian Cookery Holidays.
During your Italian cooking holiday you will discover the unique and incredible flavours of our seasonal and natural produce. The fruit and vegetables used as ingredients for our Italian cookery classes are supplied by specially selected, small local organic gardens and orchards. For instance, the fresh fruit sampled during Convivio Rome Italian cookery holidays might have a little organic roughness, but they are incredibly juicy, sweet and full of flavour. At Convivio Rome Italian Cooking Holidays we believe in the 'zero miles' idea of sourcing our ingredients, olive oil, wine and cheese from organic local farms and producers. This is a way to keep our carbon footprint to a minimum and to please our senses at the same time!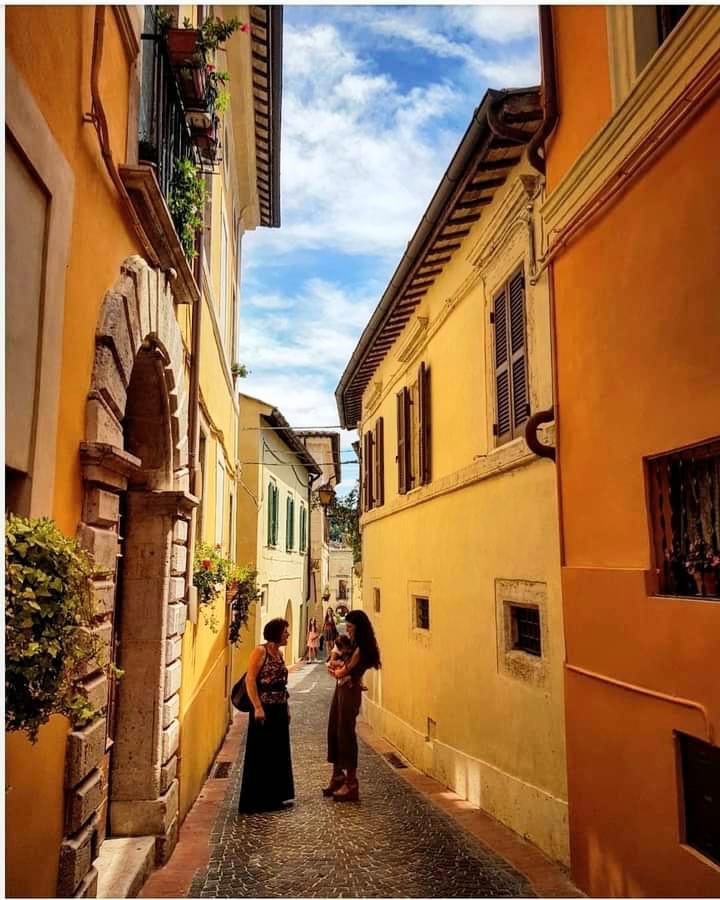 Cultural Events and Food Festivals
Toffia, Farfa and Fara Sabina, amongst other hilltop villages in the area, celebrate their local cultural and food by holding festivals all year. Toffia's  remarkable 'festa del centro storico' lasts for a week and includes live jazz, blues and traditional Italian music, theatre and of course plenty of food and wine. The olive oil harvest is enjoyed and celebrated during 'andare per olio' week.
Our little village of Toffia is the centre of many cultural events and music festivals. These activities are held outside in one of the many piazzas  and inside the local theatre (where they have recently discovered a 1300's fresco on the old church wall), and are always followed by an amazing dinner with local foods and wines. If you are lucky enough to be here when there is a music concert, play, art exhibition, poetry reading or performance, we are are happy to take you along to join in the fun.
All our activities can be combined with accommodation at our B&B