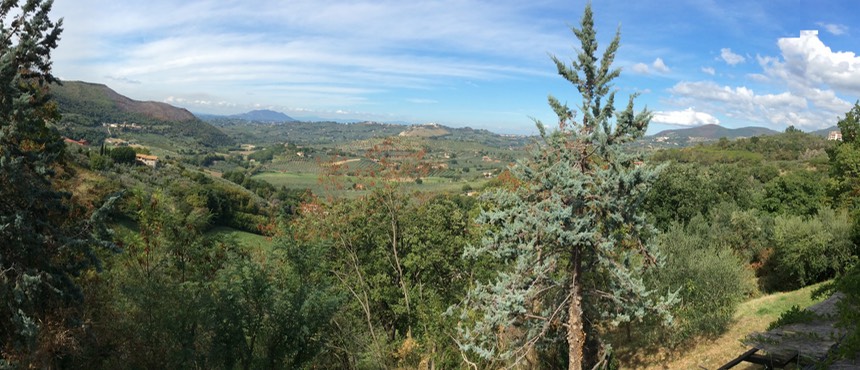 An Authentic Italian Experience
Cook and eat great food, drink local wine, sample olive oil and enjoy the breathtaking scenery

Prepare a meal in our family home using only fresh, seasonal ingredients

A unique cooking experience in the unspoilt Roman Countryside only 40 minutes away

Family & group discounts available. For groups larger than 8 people, please enquire.
1-Day and Half-Day Cooking Classes near Rome: come to our enchanted village and home, breathe in fresh, clean country air. It's like Tuscany at Rome's doorstep!
Leave the hustle and bustle of Rome behind for a day and discover the enchanted villages of Castelnuovo and Farfa nestled in the Sabine hills, where our Italian cooking classes and lessons near Rome are held. Fill your eyes with stunning views of green rolling hills covered with olive groves, ancient warm-coloured stoned palaces, picturesque winding streets, secret gardens and piazzas. It's like a 500 year old movie set, but it's real. This is the real Italy, authentic dolce vita!
We enjoyed lunch together on their terrace, with free-flowing wine and relaxed conversation. It did not feel like a cooking class: it felt more like visiting with friends who invited you to their home for lunch. All the dishes were wonderful, exactly what I would imagine a lovingly prepared home-cooked meal in Rome would be.

If you have a full day in the area and want a taste of idyllic Rome, I highly recommend Convivio Rome. Sally and Guido were so hospitable, and went out of their way to make our day with them special. They accommodated all our special requests, and we were so glad we spent the last day of our vacation with them. It was a wonderful end to a memorable trip.

- Erika (California, USA)
So easy to come here: trains depart every 15 minutes!
From wherever you are staying in Rome, coming to the Sabina region is easy, direct and simple and it only takes approximately 40  minutes. This is thanks to an excellent air-conditioned urban train service which stops in many areas of Rome,  and departs every 15 minutes. We give you easy-to-follow directions to come to our local train station; you will find us there waiting for you holding our sign, then we will take you for a short drive to our home, where your Italian cooking day will start.
Free local station pick up service
Train from Rome: We will send you detailed & easy to follow instructions on how to get to your pick up point. It is very easy to take this direct modern train from anywhere in Rome (or the main Rome airport) to Fara Sabina station, where we will meet you and return you to at the end of your day out. Train departures are generally every 15 minutes. The train journey is about 40 minutes. Train tickets cost from €2.60 to €2.90  Euros, one way, from Rome.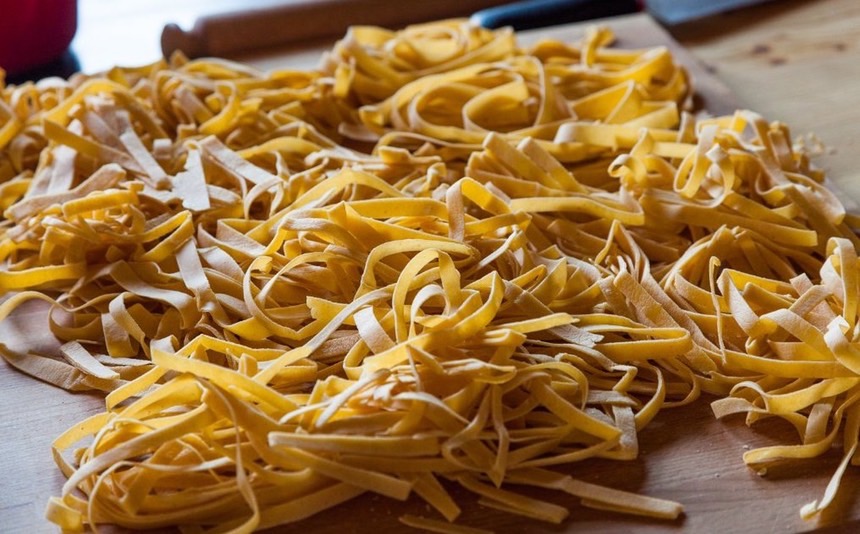 Cook in our home kitchen and enjoy your meal with us.
We welcome you in to our family home for your traditional Italian cooking class. The maximum group size of our Italian cookery courses and cooking classes near Rome is 6 to 8 people, therefore each participant enjoys personalised attention and gets the most out of every Italian cooking class.
The views from Convivio Rome are picture perfect, like a postcard of the Italian countryside. - Angela (Stockholm, Sweden)
This is where the freshest ingredients come from.
Sabina, the area where we locate our Italian cooking classes and lessons near Rome, is a fertile land where the freshest ingredients are supplied to us for our Italian cookery classes. Unlike markets in the city of Rome, the produce we use for our cooking classes don't travel at all and come from selected local small farms run by passionate, caring people. You will see fruit and vegetables in all different shapes and sizes: that's because they come from someone's garden, not mass produced, and they burst with flavour. Sabina is famous for extra virgin olive oil (it's an 'European Protected Designation of Origin' oil): it's light, full of complex flavours and a wonderful smell of freshly cut grass.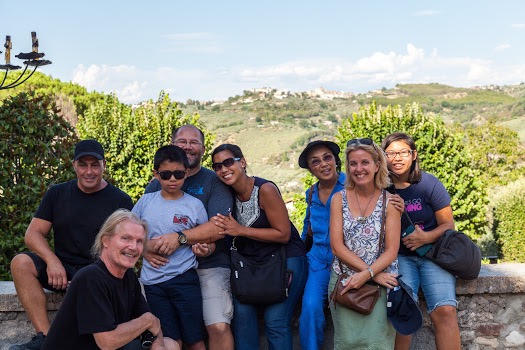 "We had a wonderful time with Guido & Sally. They feel like you are spending the day with old friends. I can't wait to try some of the recipes at home!" - Paula 
English language to mother-tongue level means clear communication.
Convivio Rome's head chef Guido, an 8th generation Roman, lived in Britain and Australia for a number of years and speaks perfect English. His wife Sally, who also runs Convivio Rome, is Australian.

Visit medieval villages: the perfect stroll before and after lunch!

Visit to Farfa monastic village
Upon your arrival to the Sabine Hills, you take a short stroll through the picturesque medieval village of Castelnuovo, where homes have been decorated in a selection of colours from Giotto's paintings. After you have experienced the spectacular views from our family home, your authentic Italian cooking class and your three course meal with ample local wine, we take you for an informal, relaxed stroll to the ancient 6th Century monastic village of Farfa. Once a powerful city state which ruled most of Central Italy, today Farfa is a stunning, restored complex of monumental towers, palaces and a frescoed church as well as a village populated by artists and artisans.
A beautiful, short drive back to the station at the end of your Italian Cooking day.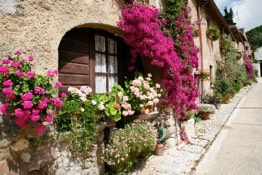 At the end of your day with us, we drive you through the stunning countryside of the Sabine Hills, filled with olive groves and magnificent views, to the local train station. From here, you can catch the direct train back to Rome.
All our activities can be combined with accommodation at our B&B