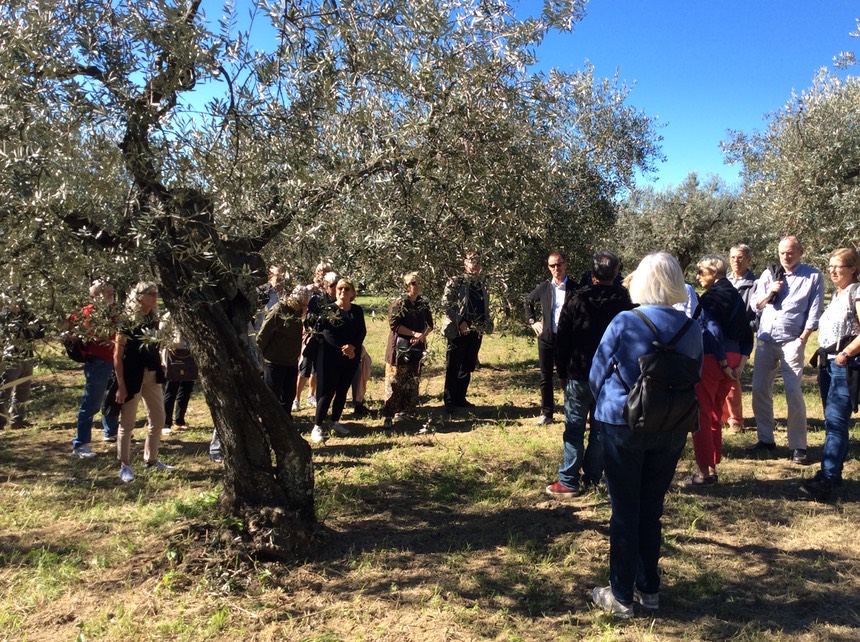 Half Day Rome Olive Oil Tour
€ 75.00 Euro
per person 
- Group and family discounts available: just ask!
- Available all year round.
This 3.5 hour Rome Olive Tour includes a visit to the largest olive tree in Europe (2080 years old), a visit to the local olive mill (when open), a guided tour of a local organic olive grove, plus a visit to our family home for an olive oil tasting and light lunch, sampling local Sabina produce with a glass of wine while overlooking spectacular and unspoilt views of the Rome countryside.
This tour is all about olive oil, its flavour and the art of olive oil making. During your olive oil tour we will drive you through beautiful rolling hills covered with olive groves, fruit orchards and vineyard, on our way to visit a family run olive grove, where extra virgin olive oil is still produced traditionally in the beautiful natural surroundings of the Sabina region, just north of Rome. This is a unique experience, a chance to learn about olive oil making, walk in the unspoilt Roman countryside and admire a number of well established olive trees that are certainly a few hundred years old.
Your authentic Italian olive tour
Your native Italian olive oil expert will guide your olive tour in well spoken English

A unique olive oil tour in the unspoilt Roman Countryside only 40 minutes away from Rome (easy-to-follow train directions given)

Visit the largest olive tree in Europe, visit to an olive mill (when open) and sample local DOP Sabine Hills Olive Oil

Enjoy the breathtaking scenery from our family terrace while sampling local food, wine and olive oil

Small group tours means personal service

Family & group discounts available. For groups larger than 8 people, please enquire.
Easy journey from Rome: trains every 15 minutes!
From wherever you are staying in Rome, joining our olive oil tour is easy, direct and simple and it only takes about 40 minutes. There is an excellent urban train service which departs from many areas of Rome every 15 minutes. We give you easy-to-follow directions to come to our local train station; you will find us there waiting for you holding our sign, then we will set off for our olive oil tour. At the end of your Rome olive oil tour, we will return you to the station. 
What makes good olive oil so special?
During your olive oil tour, you will learn to recognize good olive oil by its freshness and flavour, discover the ancient art of olive oil making and find out what makes good olive oil so special. You will also sample the olive oil on freshly baked wood-fired bread with a glass of wine and a sample of local prosciutto and pecorino cheeses, while admiring the stunning views from the Sabine hills from our family home terrace. You'll be able to taste the difference between the olive oil you normally buy at home and local organic extra virgin olive oil.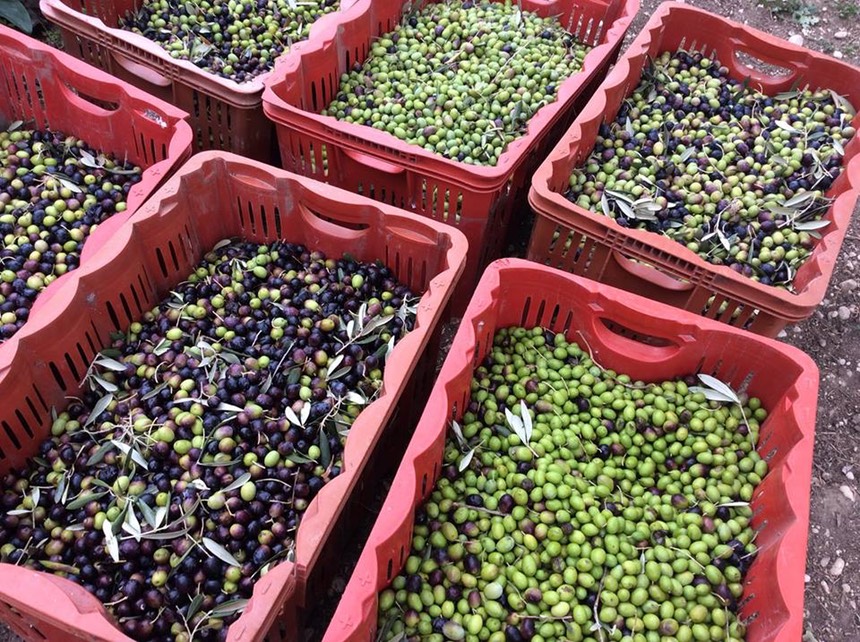 Half Day Rome Olive Tour programme
Morning: Pick-up at local train station at 10.00 am. Enjoy the beautiful drive through rolling hills, past olive groves and medieval villages on your way to visit the 'Largest Olive Tree in Europe', also called 'L'Olivone'. Although this is within a private property, we have permission to visit. We stop here to admire this natural 2000 year old monument that is still producing olives. After enjoyng a scenic drive through this beautiful countryside, we continue this tour by taking you to an olive mill (when open), where we discuss the process of olive pressing from start to finish. Then we visit a local olive grove where we tell you about the history, local traditions of olive oil in this region, how olive oil is produced and what to look for in selecting your extra virgin olive oil at home. Plus much more. We then walk 50 metres to our family home and taste quality Sabina D.O.P extra virgin olive oil and sample local bread, salami and cheeses with a glass of wine while admiring the stunning countryside from our home terrace.
1.30 pm: After a wonderful morning learning about the ancient art of olive oil making, what makes the local Sabina extra virgin olive oil so good, and then sampling this Sabina Olive Oil in the wonderful setting of the Roman Countryside, we will return you to the local station to catch your train back to Rome.
What's included
Visit to the largest olive tree in Europe (2,080 years old)

Visit to a family-run olive mill (when open)

Visit to a 15th Century olive grove in the Sabina Region

Extra Virgin Olive Oil tasting and comparison 

Information on how to recognize quality olive oil

 

Light lunch of local olives, bread, meats and cheeses while enjoying the stunning views from our family home terrace

 

Local wine with your lunch of regional specialties 

English speaking guide

Free pick up / return service from local train station 

Small welcome gift 
What's not included
Flights

Travel Insurance

Car hire, private driver or taxi service
Free local station pick up service
Train from Rome: We will send you detailed & easy to follow instructions on how to get to your pick up point. It is very easy to take this direct modern train from anywhere in Rome (or the main airport) to Fara Sabina station, where we will meet you and return you to at the end of your day out. Train departures are generally every 15 minutes. The train journey is 40 minutes. Train tickets cost from €2.60 to €2.90  Euros, one way, from Rome.
One of the best parts of our two week vacation in Italy

I used Trip advisor to find this great tour. Guido and Sally were fabulous hosts. We enjoyed all the information they shared with us and the beautiful Italian countryside they call home. It really felt like we were visiting with friends who just happen to know a great deal about olive trees, olives, and olive oil. They were great at communicating with us before the trip and provided perfect instructions on how to reach them from Rome. This tour would be great for anyone, any age.

Kathy R.
The largest olive tree in Europe

The first stop on your olive oil tour is a visit to the largest olive tree in Europe, which is over 2000 years old and is a natural monument of Italy. This enormous olive tree still produces plenty of olives and is set in the heart of olive oil country and the rolling hills of Sabina near Rome.
Thanks to Sally and Guido for a fabulous day out from Rome, I learnt so much and got to see some amazing countryside (that reminded me of Tuscany and Umbria) in a region I knew nothing about. Guido certainly knows all there is to know about Olive Oil. He was a great guide and made the whole experience fun and relaxing. I learnt so much about Italian extra virgin olive oil, that my friends now call me 'an olive oil snob', and I love it! 

Elisabeth C. Ontario, Canada.
For larger groups: We can also accommodate private larger groups. Please inquire. Our Rome Olive Oil Tour is usually conducted in the morning, however afternoon tour times can also be arranged for larger groups.
All our activities can be combined with accommodation at our B&B
Fantastic Olive Tour

We had a wonderful time learning more about olive oil and the history of olive oil in the area. Guido is very knowledgeable and provided a wealth of information. The tour was followed by a tasting which was fantastic and included incredible cheeses and meats from the local markets. The view of the countryside from the patio was breathtaking! The directions provided to get to the site were extremely detailed and easy to follow. This was definitely one of our favorite days from our trip to Italy and we would highly recommend it!

Lisa and Daniel N.

Wealth of knowledge about history and quality of olive oil

My husband and I thoroughly enjoyed our tour of the Sabine countryside with Guido and Sally. It was beautiful even in November. The olive oil tour included the oldest olive tree which was quite remarkable to see. The ancient olive grove was a great way to learn about the history of olive making and the process it takes today. I was very impressed with how much Guido knew about olive oil. The lunch and olive oil tasting was delicious. We even bought a bottle to take home! I will likely be back with more family and would recommend this tour to anyone!

Lisa P 

Best Olive Tour Experience

We have experienced a lot of olive oil tasting in California and this is our first time in Italy. I must say, this tour and tasting has been our best experience so far. Sally and Guido have a passion for what they do and it definitely shows. We can't wait to get back to experience their other tours!

Mike and Julie USA