PASSIONATE ABOUT ITALY?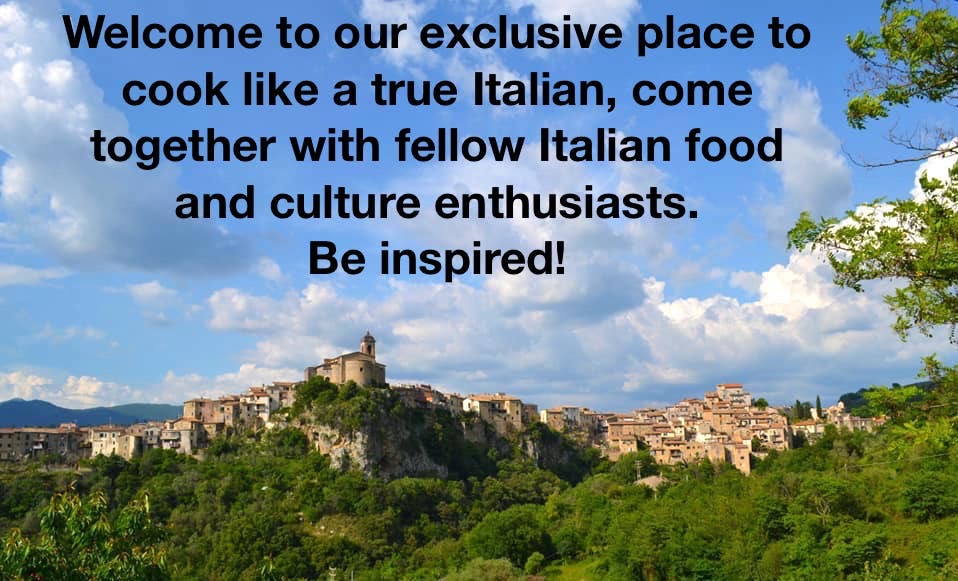 Do you dream about being in Italy and enjoying its unique cuisine and culture? Let us bring Italy to you! We know Italy holds a special place in your heart.
We all know it's not possible to travel to Italy right now and it's difficult to plan ahead. Dreams are on hold.
As you wait to go to beautiful Italy, why not join us to be inspired and find out all about Italian food, wine and culture. Let us bring you into the Rome Countryside to be part of our Italian family, cooking wonderful traditional food, talking and laughing together in the relaxed atmosphere of our Italian family home.

INTRODUCING GUIDO'S COOK CLUB MONTHLY MEMBERSHIP
At Convivio Rome, Sally and Chef Guido are proud to have run Italian cooking classes near Rome, Italy, for 15 Years. A community of thousands of people from all over the world found inspiration while enjoying their unique experience through authentic Italian food and culture. Now you can join your private community: Guido's Cook Club!
It's a new space for you, where people passionate about Italian food and culture, cook together LIVE with Guido in a fully interactive way, learn about the diversity of Italian traditional food and its tricks and tips, discuss a little history, some family stories and your favourite Italian recipes. Think of it like your online Italian get-together at Chef Guido's family home.
We're thrilled to have established a kind and friendly community of like-minded people. We cook great dishes together, talk about the best Italian food and wine experiences and culture. It's so special because Sally and Chef Guido are based in Italy and Guido is an 8th generation roman.
WHAT YOU CAN EXPECT FROM GUIDO'S COOK CLUB MONTHLY MEMBERSHIP
Private members-only community
Discuss Italian cooking and culture with Italians living in Italy right now 

Access to our exclusive 'insiders' local knowledge and expertise on Italian cuisine 

Uncover secret wineries, food and olive oil producers as well as off the beaten track stunning locations in Italy

You will find support, encouragement and inspiration within this 'Italian community' when photos, videos and advice are shared
Monthly LIVE and fully interactive

 Italian cooking class with Chef Guido on Zoom

2 new printable recipes and shopping lists every month (1 for the LIVE cooking class)

Monthly food & culture video about fascinating stories and tales that only local Italians know.

Italian cooking tip of the month

Instant access to a library of recorded cooking classes with Chef Guido (recipes included)
Direct access and support to help you cook like an Italian
Monthly Q&A session on Zoom with Chef Guido and Sally

Private Facebook group for members only where all questions are answered

All LIVE cooking classes and Q&A sessions are recorded so you can view them at your leisure and in any time zone

Weekly e-mail with updated information on what's happening within Guido's Cook Club

Easy access to all information every week (direct link given)
Want to visit us in our Italian family home?
 MEET YOUR HOSTS AND ITALIAN INSIDERS

Chef Guido and Sally
Your new friends in Italy!

Chef Guido is an 8th generation Roman with a passion for traditional Italian cuisine and fresh, natural, locally sourced ingredients. He has been running Convivio Rome with his wife Sally for 15 years, offering Italian cooking classes, cooking holidays, olive oil tours and wine tours. A lot of the dishes he teaches come from his family through the many generations. Guido's cooking classes are much more than just a cooking lesson: he's also a storyteller, always ready to share a story from Italy or tell you about the history behind a recipe. He settled in the beautiful countryside north of Rome, a stunning region called Sabine Hills, with his family. He now also runs Live virtual cooking classes and parties. Guido's English language is perfect and, because he was born and still lives in Italy, he's happy to answer any questions you have about his home country. 
Sally, a former antropologist originally from Australia, first moved to Italy over 20 years ago. It was 'Amore' when Sally met Guido, which led her to stay. She stepped into the rich Italian culture immediately, appreciating the warmth of the people, the beauty of the landscape, the culture and history, plus the amazing food and wine. Sally travelled extensively in Europe, Asia and America as a tourist before making Italy her home. "As an Australian living in Italy, I really enjoy showing my guests those secret places I have discovered, giving them an experience of what it's like to live as a local here in Italy. There's so much more to Italy that what you can discover as a tourist and I am honoured to reveal aspects of the Italian culture that you would never see otherwise".
We've saved you a seat at our Italian family table !
What they are saying about Chef Guido's online cooking classes and cultural experiences
"We (my daughter and I) and over 15 friends from all over the United States just had the most marvelous Saturday cooking lesson and lunch with Chef Guido. We made gnocchi and ragu sauce and had a marvelous time catching up, learning about Italian cooking and enjoying a delicious lunch. If you are looking for ways to spend time with family and friends, ask Convivio Rome about their zoom cooking parties. My friend Angela made the most beautiful gnocchi!!! What a wonderful time! " - Nola V. USA

"Lauren and I would like to thank you for such a fabulous and fun virtual Italian cooking class. It was like taking a trip to beautiful Italy without leaving home! It's a priceless experience to learn to cook with Guido (an 8th generation Roman) and we learnt many helpful cooking tips.  All the best! " - Lauren & Paul CA. USA

"Hi Guido, What a great virtual Italian cooking party we had with you! It was so much fun getting all my family and friends together from all over the globe and cooking. We all had such a good time learning your special tips on how to use herbs and garlic like a true Italian. You are a master in the kitchen! The food we prepared was delicious, and you've renewed our love for Italian cuisine. Thank you!" - Gemma J . Canada