There are many websites advertising cooking vacations on offer in Italy. How do you choose your Italian cooking holiday? We've put together this guide to help you decide if Convivio Rome Italian Cooking Holidays is what you are looking for.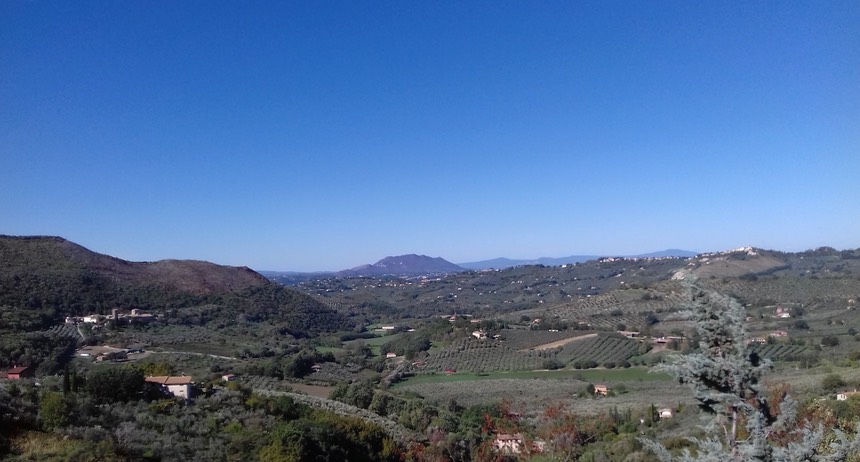 1) Learn to cook with an 8th generation Italian from Rome
Chef Guido will be running all your Italian cooking classes. He is an 8th generation Italian from Rome who's fully bi-lingual (English and Italian); he will share his family recipes and his love for authentic Italian food traditions and locally sourced organic ingredients with you. His Australian wife, Sally, also runs Convivio Rome and brings her knowledge and experience of living in Italy for 20 years. Sally and Guido chose this region of Italy as their home because of Guido's childhood memories of being brought here for weekend trips from Rome. These excursions were always dedicated to sourcing the best extra virgin olive oil, the freshest cheese and produce and the finest wine. Sourcing the best quality ingredients directly from local farmers in the beautiful Sabine Hills is therefore in Chef Guido's blood: it couldn't get more authentic than this!
Many other Italian cooking holiday companies are in fact run by people with no direct link to the culture and traditions of Italy. This is not so for us, at Convivio Rome you'll be guaranteed to enjoy a truly authentic Italian experience from start to finish.
2) All inclusive holidays, no hidden costs, no car to hire: this means more value for you.
When you look at websites offering Italian cooking holidays and vacations and their detailed programmes, please read the details carefully. We started offering our all inclusive Italian cooking vacations in the Sabine Hills 15 years ago. Since then, many others have tried to copy what we do. However, many of these programmes don't include afternoon excursions, nor general transport or even wine during meals! Often you will find that others mention 'free afternoons' or 'options to take', etc. Many only include meals resulting from the classes. We include: all accommodation, all meals and wine during your Italian cooking holiday, orientation information, excursions, guided tours and all transport in a comfortable 9 seater vehicle. 
Every day of your vacation with Convivio Rome Italian Cooking Holidays has both morning and afternoon activities. You have a cooking class (or a wine tour) in the morning, and in the afternoon we take you on a guided excursion, during which we will share our local knowledge of this wonderful region with you. So, all transportation and entrance fees to sites are included and you will not need to hire a car unless you want to. Of course, if you would like to just sit back and relax for the day you are welcome to do so but all activities (cooking classes and afternoon excursions) are always available and included for you. 
Many would like to make their cooking holidays look as if they were all-inclusive, but often are quite vague on what they offer. We are always clear about what's included. We also prefer that you enjoy what we offer so much, that you would like to come back over and over again in the future. This is why we take the time to make you feel special, treating you like a friend and being generous with what we offer you. You are never rushed and we keep the group size small (maximum of 8) to make your experience personal. 
While our pricing is very competitive compared to others, the value is much greater.
All Food & Wine is Included
We welcome you into our Italian family home and ancient medieval village just as we would welcome friends and family... and after we get to know one another, we are sure you will become part of our extended family! You, as our special guest, get given every breakfast, lunch and dinner during your cooking holiday. You will be tasting organic extra virgin olive oil, sourdough woodfired bread and pecorino cheese from our next door farm, during your cooking classes: we want you will feel like you are at home. Again, all wine with your lunch and dinner is included in our pricing.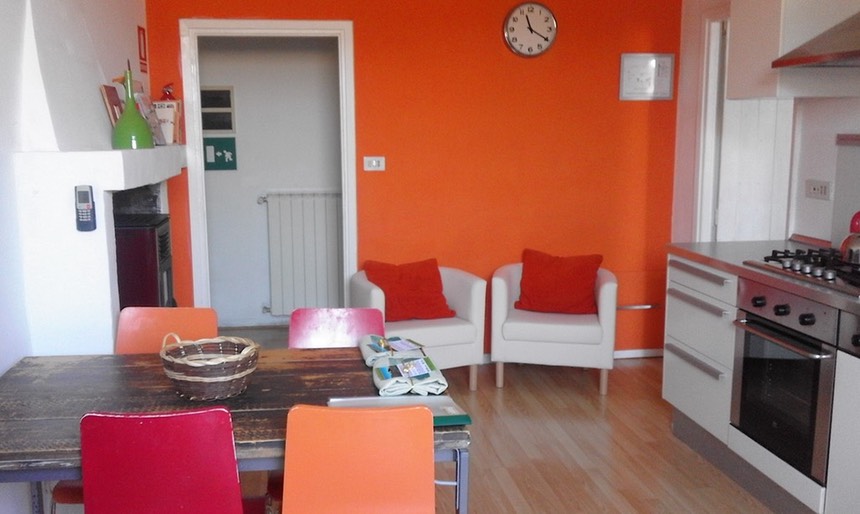 Fantastic Accommodation
While many other cooking holidays in Italy  don't even offer accommodation or they simply reserve you a room in some random hotel, accommodation is always included in your culinary vacation with us. In fact we have personally selected the best homes in the picturesque medieval village of Toffia: they are all recently renovated to a high standard, light and bright, comfortable and with wonderful views over the unspoilt and very beautiful Sabine Hills. Most accommodation have wi-fi available. Free and fast wi-fi is also available at the local cafe.
You will get a sense of living in an authentic Italian village. You will feel like a local, as your accommodation will be near the main piazza where people gather to catch up on the daily gossip or news and hear the church bells chime. As you make your way through the cobbled streets and to the local cafe where we have breakfast, you will be greeted with 'buongiorno' by the locals.
The village of Toffia is so beautiful and untouched by time that you will feel like you are walking through a movie set. In fact, Toffia has been recently used as a film set for a major American tv production starring Hillary Swank and Donald Sutherland.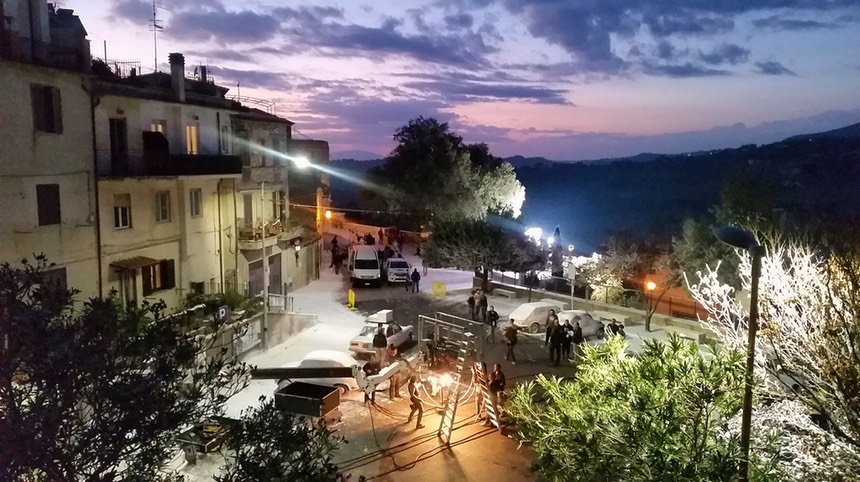 Train Station Transfers
We always include transfers from and to our local train station in Fara Sabina. Fara Sabina is directly connected to many train stations in the city of Rome and to Rome Fiumicino international airport where you can board this excellent air conditioned direct train service from inside the airport terminal. There is a train every 15 minutes departing from the Airport or many other locations in Rome. We will send you detailed directions on how and where to board this train and we will be at Fara Sabina Station waiting for your arrival, welcoming you to the Sabine Hills. Of course, we will return you to this local station at the end of your Italian Cooking Holiday with Convivio Rome. This is exactly what we do when our friends and family come to visit and there will be no difference with our cooking guests. Again, not all Italian cooking vacations include transport, which can be costly in Italy, if arranged privately: we do.
What Is not Included is always clearly stated in our Programme page.
3) An authentic experience to remember
Living like the locals in the village, having private dinner in a little family-run home restaurant set in a 500 year old wine cellar, cooking in a family kitchen overlooking 40 miles of uninterrrupted views over the greenest region of Italy, enjoying lunch sitting under the patio with a glass (or more) of wonderful local wine while engaging in interesting conversation about Italy and its food: all this will be an experience you will never forget. You will meet an amazing range of local people who have chosen Toffia as their home, including artisans and artists who will invite you into their art studios to look at their work. Or you might be invited into someone's wine cellar to explore the underground storerooms where cheese and wine are traditionally matured. Artist and poet Maria will welcome you into her home museum where she keeps an eclectic arrange of ancient home and farming equipment, plus her own paintings and wood carvings. You can also attend the local theatre when there is a performance or participate in one of the many food and music festivals that are organised over the Summer months. You will meet people that make wine, cheese and olive oil in a traditional artisan way. The village where you are staying is so beautiful it offers you many opportunities to take photographs, paint or draw. Your stay with us promises to be so much more than just cooking classes: we know that you have an experience of a lifetime.

4) Our cooking classes are always hands-on
We don't believe in simple 'cooking demonstrations'. Other Italian cooking holidays often include mere demonstrations in the programme. We always involve you in taking part in all aspects of  the food preparation and cooking process: we believe it's a lot of fun for everybody. In other words, for Chef Guido a cooking class is more like cooking with friends!
5) Off the beaten track touring
Our locations are absolutely stunning and set in an unspoilt rural area of Italy near Rome. The Sabine Hills are what you would expect from the Italian countryside: rolling hills covered with olive groves, vineyards, orchards and cypress trees, dotted with hilltop medieval villages, castles and monasteries. After the cooking classes we like to share our local knoledge with you. We will take you to visit historic villages and monasteries that can be  as ancient as 1,500 years old. They are completely off the beaten track and truly unique hidden gems. For example, during one of your excursions, Chef Guido will guide you through a 600 year old olive grove, explaining everything you need to know about organic extra virgin olive oil, how it's traditionally made and its history. You will be visiting places that are rarely seen by tourists. There is no mass tourism in this area.
6) Traditional Italian cuisine
We want to share our passion for traditional Italian home cuisine. The wonderful meals you will be preparing with us are typical of Rome, Tuscany and central Italy, as they have been prepared by Italians for many generations.  Once again, being welcomed in a family home, cooking authentic Italian food in a family kitchen will be an absolutely unique experience for you.
7) You are a friend, not just a client.
We like to share our home and the wonderful region where we live with you. You'll feel like you've come to visit friends or extended family rather than being part of an orgnised tour: this has always been our philosophy at Convivio Rome Italian Cooking Holidays. We are about fun cooking, enjoying a simple life, engaging in conversation about Italian culture, sipping wine as you enjoy your lunch or dinner, all at a relaxed pace, exactly as we would do with friends and family.
8) Well established Italian cooking holidays and vacations
Because of the internet, it's not easy to tell a well established Italian cooking holidays company  from one that is not so experienced. Many of them are open only for a short time: running Italian culinary holidays that meet guest's expectations can be difficult. We have been operating in our current location for 11 years and Chef Guido have been giving cooking classes since 2001. Some of our guests have returned many times over the years. You can visit our Tripadvisor page to read what our guests think of us or contact us via e-mail or Facebook whenever you like.
9) We are an independent, husband & wife team
Nowadays, many Italian cooking vacations you find on the internet are sold by resellers and large agencies that never actually meet those people organising the holiday on site. This is not the case with Convivio Rome Italian Cooking Holidays, as it's directly run by Guido and Sally, a husband & wife team. When you enquire about or book your cooking holiday you are dealing directly with Sally, not some anonymous office person located on the other side of the world. This allows us to take care of all the details of your Italian cooking vacation directly and effectively on site, from start to finish. We cater directly for small groups so we can offer you a personal service. Part of the accommodation is owned by us, as well as the kitchen where the cooking classes are held (it's our own home kitchen, where you will be cooking). 
10) The Sabine Hills: an idillic Italian countryside location conveniently connected to Rome.
Our location in the Sabine Hills cannot be rivaled for its unspoilt beauty. Many people generally refer to the central Italian countryside as 'Tuscany'. The Sabine Hills have a lot in common with Tuscany in terms of landscape, intact medieval hilltop villages and culinary traditions. It's very agricultural and the olive tree is a symbol of this area (we have an olive tree, 'the largest olive tree in Europe', that dates back to 2000 years ago). The advantages of the Sabine Hills are that our region is completely unspoilt by mass tourism and it is located only a stone's throw from Rome, easily connected to the Eternal City by a quick and frequent train service. For this reason, many of our guests would typically spend one or more days visiting Rome, before heading to the countryside to enjoy the tranquillity, the majestic views, the clean air and the relaxing atmosphere that our region has to offer.