Guido's recipe for 'Carciofi alla romana' has been featured in National Geographic's book - 'Food Journey's of a Lifetime'
 Take a look at Guido's blog site for more exciting recipes and information.
 Here's just some of Guido's recipes for you to try:
 Carciofi alla romana (Roman style artichokes)              
Serves 4:
Ingredients: 4 artichokes, extra virgin olive oil, fresh mint, garlic, salt & pepper.
Prepare the artichokes by disposing of all the tough leaves and by peeling the bottom part and quickly rub half a lemon on them, which will prevent them from darkening. Stuff the artichokes with mint leaves, a little chopped garlic, salt and pepper. Put them upside down (stalk up) into a pot just large enough to contain them, pour a quarter of a glass of olive oil and half a glass of water on them. Cover the pot and let cook until tender (the amount of time really depends on the type of artichokes).
Spaghetti alla Carbonara (as pictured below)- Serves 6:
Ingredients: 500 gm of dried spaghetti, 50g of guanciale, 50 g of pecorino romano, black pepper, 4 eggs, extra virgin olive oil. 
First: put a large pot of salted water onto the stove to boil.
Tip: This sauce is very quick, and when ready needs to be stirred into the cooked 'aldente' spaghetti and served immediately.
Method: Cut the guanciale into short sticks. Put a little olive oil in a pan and fry guanciale until crispy. Whisk the eggs in a bowl with pecorino cheese, black pepper and a pinch of salt. When pasta is cooked, drain the pasta, put it back in the hot pot and mix all the ingredients until the eggs acquire a creamy consistency, without scrambling. Serve with extra pepper on top.
Buon appetito.
(Pasta shapes traditionally used for Carbonara Sauce are: spaghetti or rigatoni).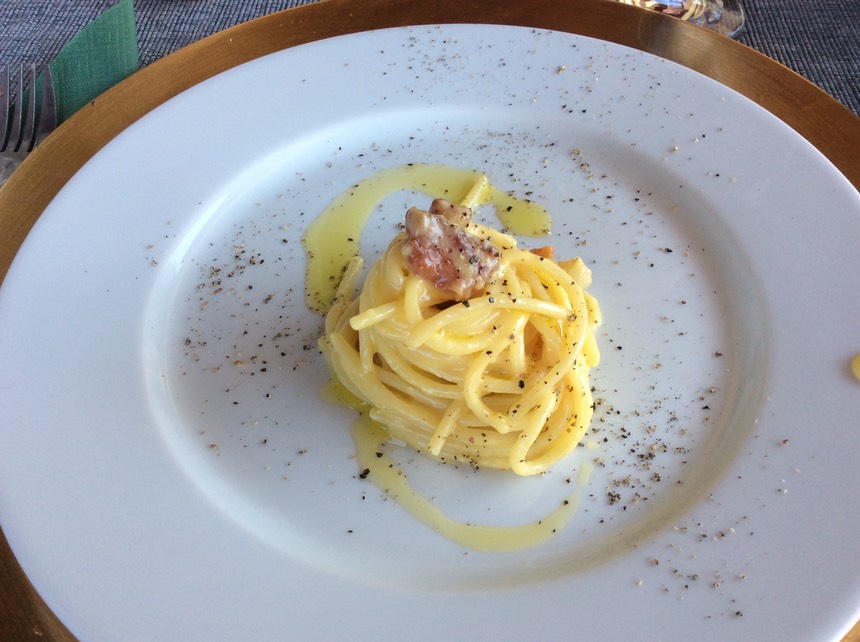 Linguine al pesto - Serves 4
Although Pesto sauce comes from Genova, it has become a classic in Rome and Central Italy. This recipe is from my grandmother who was born in Genova. And, yes, you can use a blender.
Ingredients: 250 g of spaghetti ( De Cecco brand is best), 1 large bunch of fresh basil leaves, 1/3 of a clove of garlic, handful of pinenuts, 30 g of Grana Padano cheese, 30 g of Pecorino Romano cheese, extra virgin olive oil, pinch of salt.
Put basil leaves, pinenuts, Grana Padano and Pecorino cheese , 1/3 of a clove of garlic and a  pinch of salt in the blender with a little extra virgin olive oil. Blend until smooth (or chunky, if preferred), then add more olive oil. Cook the linguine aldente, put it back in the pot after draining,  mix in a bit of butter first and pour in the pesto sauce. Stir all together. Pronto in tavola!
Saltimbocca alla romana with an orange twist (as pictured)
1 slice of veal per person, 1 slice of prosciutto di Parma per person, Fresh sage leaves, bay leaves, 1 clove of garlic, orange juice (half a small glass), half a small onion, extra virgin olive oil.
This is our own version of this Roman classic main dish. Pierce the sage leaf, prosciutto and veal with a toothpick so they stick together. Let the garlic roast in extra virgin olive oil until golden and then throw it away. Quickly fry the meat at medium to high heat. Add no salt, as prosciutto will release its own.
For the orange sauce: fry the finely chopped onion with oil and whole bay leaves. Take bay leaves out and then add the orange juice. Let the juice evaporate for a few minutes. Pour the sauce at the bottom of the plate and place the meat in the middle.
Guido's blog site for more exciting recipes and information.